Certified Nursing Assistant or CNA training online is best suited to students and other candidates who are aspiring to make a career in the healthcare industry, but are not able to attend regular programs either because of their current employment or other engagements. Further, CNA training online training is less expensive compared to the programs offered by schools and colleges.
Accredited CNA Schools!
Find schools and get information on the program that's right for you.
Powered by Campus Explorer
CNA Training Online
There are several CNA training online programs that allow students to earn a degree from the comfort of their house. The online programs are similar to regular training programs in the sense that the skills and topics discussed are usually the same. These programs provide online instructions and organize clinical work to ensure a well-rounded course. Students can enroll for CNA training online programs after completing their high school studies. Many programs require students to submit standardized test scores. For example, Johnson County Community College, Kansas, requires students enrolling for CNA training online to earn a score of at least 19 on the ACT. Though it is not a prerequisite for most programs, many students work as nursing assistants while simultaneously working towards their degree.
Typically, a student can earn a CNA degree in about two months. The student will have to complete five courses and attend about 40 hours of online classes. When it comes to CNA training online courses, the challenge that educators have to overcome is communicating to students as to how they have to handle nursing tasks in a virtual environment. The online program offered by Ivy Tech Community College includes lectures, videos, and online procedural demonstrations. It is mandatory for students enrolling for the CNA training online program at Johnson County Community College to attend an orientation session wherein they are briefed as to how the online course environment works.
Clinical training is part of any CNA program. This is because they need to work hands-on with patients in various health care settings. In many states, it is mandatory that the students obtain clinical training as part of their CNA training. CNA training online programs also supplement virtual classes with laboratory work and clinical practice. For instance, students who enroll for online CNA programs at Ivy Tech Community College are required to complete four six-hour sessions in laboratories as well as seven days of clinical practice. The clinical training is provided in a nursing home or hospital. They work with a CNA or a registered nurse, assisting them in their duties. It is mandatory that the student undergoing clinical training be observed by a health care professional when performing any duty.
Students can easily find a CNA training online program in their area by visiting Healthcare Career Guide's website. They need to just type their zip code to request for information on online schools. Applications can be submitted online to the selected school's admissions department after choosing the course. A representative of the school will contact the student on phone or by email to help start the CNA training online after assessing eligibility. Students are required to have basic computer skills and need to complete assignments on time. They also need to pass a background check and tuberculosis test. Some of the colleges that provide CNA online training programs are:
•  St. Augustine Nursing Assistant School, Atlanta, Georgia
•  Ivy Tech Community College, Bloomington, Indiana
•  Tulsa Community College, Tulsa, Oklahoma
•  Hutchinson Community College, Hutchinson, Kansas
•  Miles Community College, Miles City, Montana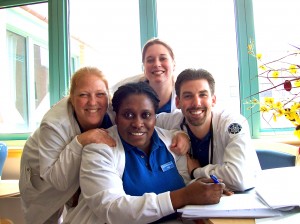 The CNA training online programs are designed to equip the students with the knowledge and skills required to clear the state certification examination. The subjects covered in a CNA training online program include patient rights, anatomy, ethics, therapy and physiology. The skills required to work as a CNA are basic and include hand washing, assisting patients with daily living activities such as eating and walking, checking vital signs, etc. The CNA certification examination has two parts; clinical skill evaluation and a test with 55 multiple choice questions. Students are required to complete 75 state-approved training hours prior to taking the CNA examination.
Benefits of CNA training online
The major benefits of opting for CNA training online are as follows:
•  They are significantly more flexible than regular training programs.
•  They are less expensive as students don't have to spend on transportation and Internet is very cheap.
•   Students can learn at the convenience of their house.
•   Students can decide their schedule to complete the 75 state-approved hours of training. This is not possible in the case of regular programs. If students miss their classes, they may be rejected from the program and may have to apply again. Many schools and colleges do not refund the fees if the students get rejected from the program.
•   CNA training online classes are usually shorter and can be taken any time the student wants.
•   According to the U.S. Bureau of Labor Statistics, the jobs for CNAs are expected to grow at a faster-than-average rate at least till the year 2018.
CNAs are required to work in a variety of health care settings. These include doctors' offices, clinics, nursing homes, hospitals and schools. The factors that influence the salary of a CNA are as follows:
• Geographic location of the health care facility: Health care facilities in bigger towns pay higher salaries to CNAs compared to those in smaller towns and suburbs.
• The type of health care facility in which employed: The salary paid by a doctor's office will be much less than that paid by a big hospital. Typically, CNAs working in hospitals are paid the highest.
• Number of years of experience that the CNA has: The salary of a CNA increases with experience.
• Number of licenses, certificates and specializations that the CNA has.
On the basis of these criteria, the annual salaries of CNAs as indicated by PayScale are as follows:
•  Less than 1 year of experience – $14,357 to $40,831
•  1 – 4 years of experience – $13,569 to $39,227
•  5 – 9 years of experience – $14,723 to $41,945
In conclusion, whether the student intends using CNA as a stepping stone to advanced certification in the health care sector or considering it as a permanent career, the student must seriously consider the CNA training online option because of speed, cost and flexibility benefits.