CNA Certification Alabama
If it is your ardent desire to enter Health Care field in Alabama, you must remember that your first step in this direction is earning of CNA Certification, which not only make you proficient in various basic nursing skills, personal care skills and general nurse care, but also allows you to work legally in any health care facilities. CNA Certification also assists you in your future career growth through continuing education for advanced nursing field.
The basic feature of CNA Certification Alabama includes:
Enrolling for state and OBRA-87 approved Certification training program
Sit for the Certification Test
Pass the test and get listed with Nurse Aide Registry
Certified Nurse Aide Program
The basic requirements of the training programs include, 75 hours total training, consisting of Classroom theoretical instructions and Clinical hands-on training. The program must be accredited and approved by state and OBRA-87.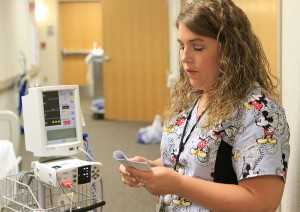 The courses and skills that are instructed during training program are based on the skills that are required for the quality and competent care of the ailing patients of any age. The program duration is 4 weeks to 12 weeks as per training institute requirement.
CNA Certification Test
The completion of the CNA Program permits a student to appear for the Pearson Vue offered NNAAP Examination, comprising of multi choice written test and skill demonstration test. The multi choice questions and skill performances are based on classroom learning, clinical trainings and skills that are essential for effective, competent and safe care of the residents in the long term care facilities. Skill performance is conducted on a live model, dummy or a client.
The passing of the both exams awards CNA Certification and registration with AL State Nurse Aide Registry.
It is the responsibilities of Alabama Department of Health (ADH), to manage, regulate and maintain CNA Certification and Nurse Aide Registry in the state of Alabama.
Check out our list of best CNA Schools to get a cna certification in AL.
American Red Cross – Nurse Assistant Training – Birmingham Campus
114 22nd Street South, Birmingham, AL 35233
Phone: (205) 795-8740
American Red Cross – Nurse Assistant Training – Montgomery Campus
5015 Woods Crossing, Montgomery, AL 36106
Phone: (334) 260-3980
Chattahooche Valley Community College – Phoenix City
2602 College Drive, Phoenix City, AL 36869
Faulkner State CNA Training Class – Bay Minette
1900 Highway 31 South, Bay Minette, Alabama 36507
Gadsden State Community College – Division of Health Sciences
P.O. Box 227, Gadsden, AL 35902
Lawson State Community College Nurse Aide Program – Birmingham
3060 Wilson Road SW, Birmingham, Alabama 35221
Lawson State Community College – Bessemer
1100 Ninth Avenue NW, Bessemer, AL 35022
Northeast Alabama Community College Nursing Assistant Course – Rainsville
P. O. Box 159, Rainsville, Alabama 35986
Northwest-Shoals Community College CNA Training Course – Muscle Shoals
800 George Wallace Blvd., Muscle Shoals, AL 35661
Reid State Technical College Health Careers and Human Services Division – Evergreen
P.O. Box 588, Evergreen, Alabama 36401
Shelton State Community College CNA Program – Tuscaloosa
9500 Old Greensboro Rd., Tuscaloosa, AL 35405
Caroll Place Nurse Aide Program – Fairhope
50 Spring Run Road, Fairhope, Alabama 36532
Catherine Place Assisted Living Facility Nurse Aide Training Program – Daphne
27440 County Road 13, Daphne, Alabama 36526
Live Oak Village, LLC – Foley
2300 North Cedar Street, Foley, AL 36535
Westminster Village C.N.A. Class – Spanish Fort
500 Spanish Fort Blvd., Spanish Fort, Alabama 36527

Magnolia House Nursing Assistant Training – Oneonta
100 Forth Ave. West, Oneonta, AL 35121
The Olive Home Inc. Nurse Aide Training – Oneonta
1100 2nd Avenue East, Oneonta, Alabama 35121
American Red Cross – Nurse Assistant Training – Huntsville Campus
1101 Washington Street NW, Huntsville, AL 35801
Phone: (256) 536-0084
Cedar Hill Assisted Living Facility Nurse Aide Training Course – Selma
1300 Old Orrville Rd., Selma, AL 36701
NHC Place – Aniston
1335 Greenbrier Rd., Anniston, Alabama 36207
Morningside of Sheffield Nurse Aide Training
413 Cox Blvd., Sheffield, AL 35660
Wellington Place of the Shoals – Muscles Shoals
2904 South Wilson Dam Road, Muscles Shoals, Alabama 35661
Morningside of Cullman Nurse Aide Program – Cullman
2021 Dahlke Drive, N.E., Cullman, AL 35058
Victorian Manor – Hanceville
105 Michelle Street NW, Hanceville, Alabama 35077
Wills Creek Village C.N.A. Class – Fort Payne
1050 Airport Road West, Fort Payne, AL 35968
Meadowood Retirement Village, LLC – Glencoe
509 Pineview Ave., Glencoe, Alabama 35905
Regal Place at Regency Pointe Nurse Aide Course – Rainbow City
510 East Grande Ave., Rainbow City, AL 35906
Oak Landing CNA Training Course – Attalla
616 Gaines Street, Attalla, Alabama 35954
Morningside of Fayette CNA Program
404 25th Street, Northwest, Fayette, AL 35555
Hartford Retirement Village, Inc.
#5 Highway 52 East, Hartford, Alabama 36344
Wesley Manor Retirement Center CNA Training Program – Dothan
718 Honeysuckle Rd., Dothan, AL 36305
Oaks on Parkwood Assisted Living Facility Nursing Assistant Course – Bessemer
2651 Laurel Oak Drive, Bessemer, AL 35022