CNA Certification in Kansas
How to become a Certified Nursing Assistant (CNA) in Kansas? CNAs are medical paraprofessionals working in any healthcare facility like nursing homes, hospitals or adult care units. What does it take to get CNA certification in Kansas? You must first enroll into a CNA certificate/training program that is approved by the Kansas Department of Health and Human Services. Upon the completion of this CNA training program you are eligible to challenge the state competency examination. This exam consists of two portions: written portion that tests your knowledge from the class lectures while the skill performance portion tests you on the five nursing skills learnt in the CNA program. After obtaining a passing score in this exam, your name gets placed on the Kansas Certified Nurse Aide Registry permitting you to work in any healthcare facility throughout the Kansas. You must hold a clean criminal record (no charges of abuse, neglect, or misappropriation of client property) and must not be listed on the Kansas Employee Disqualification List, in order to sustain your name on the Registry. To qualify for the free certification renewal, you must provide a proof of a minimum 8 hours of employment within 24 months of your initial licensure.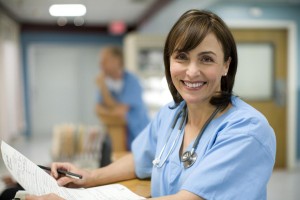 What does a CNA certificate program in Kansas offers? Every CNA program in Kansas must consist of at least 90 hours of total instruction constituting both the clinical and classroom components. CNA training is often offered at licensed nursing homes and private schools, community colleges, high schools, licensed long term care units or skilled care units. To get CNA certified in Kansas, you must undergo a criminal background check, fingerprint live scan, show a high school diploma or GED, provide photo ID and two photos and a negative TB test within the past 6 months and proof of immunizations will also be required.
With Kansas' ageing population, there is going to be high demand of CNA and related jobs for many years to come, making the profession a perfect start to someone willing to enter the field of healthcare.
CNA programs that are  approved by the Kansas Department of Health and Human Services
CNA Course Description

CNA Training Schools Locations

 ANDOVER
90 Hour Nurse Aide Course
BUTLER CO COMMUNITY COLLEGE OF
ANDOVER
21ST AND ANDOVER RD
ANDOVER KS 67002
ATCHISON
90 Hour Nurse Aide Course
HIGHLAND COMMUNITY COLLEGE
PO BOX 68
HIGHLAND KS 66035
(785) 442-3236
90 Hour Nurse Aide Course
HIGHLAND COMMUNITY COLLEGE
PO BOX 68
HIGHLAND KS 66035
(785) 442-3236
AUGUSTA
90 Hour Nurse Aide Training Class
BUTLER CO COMMUNITY COLLEGE OF
ANDOVER
21ST AND ANDOVER RD
ANDOVER KS 67002
CHANUTE
90 Hour Nurse Aide Program
NEOSHO CO COMMUNITY
COLLEGE-CHANUTE
800 W 14TH ST
CHANUTE KS 66720
(620) 431-2820
CONCORDIA
90 Hour Nurse Aide Program
CLOUD CO COMMUNITY COLLEGE ALLIED
HEALTH
P O BOX 1002
CONCORDIA KS 66901
(785) 243-1435
90 Hour Nurse Aide Assistant Classes
CLOUD CO COMMUNITY COLLEGE ALLIED
HEALTH
P O BOX 1002
CONCORDIA KS 66901
(785) 243-1435
EMPORIA
90 Hour Nurse Aide Assistant Classes
HOLIDAY RESORT EMPORIA
2700 W 30TH ST
EMPORIA KS 66801
(620) 343-9285
FORT SCOTT
90 Hour Nurse Aide Assistant Classes
FT SCOTT COMMUNITY COLLEGE
2108 S HORTON
FORT SCOTT KS 66701
(620) 768-2908
90 Hour Nurse Aide Certification
FT SCOTT COMMUNITY COLLEGE
2108 S HORTON
FORT SCOTT KS 66701
(620) 768-2908
90 Hour Nurse Aide Certification Class
FT SCOTT COMMUNITY COLLEGE
2108 S HORTON
FORT SCOTT KS 66701
(620) 768-2908
GARDEN CITY
90 Hour Nurse Aide Certification Course
GARDEN CITY COMMUNITY COLLEGE
801 CAMPUS DR
GARDEN CITY KS 67846
(620) 276-9560
90 Hour Nurse Aide Certification Course
GARDEN CITY COMMUNITY COLLEGE
801 CAMPUS DR
GARDEN CITY KS 67846
(620) 276-9560
90 Hour Nurse Aide Class
GARDEN CITY COMMUNITY COLLEGE
801 CAMPUS DR
GARDEN CITY KS 67846
(620) 276-9560
90 Hour Nurse Aide Class
GARDEN CITY COMMUNITY COLLEGE
801 CAMPUS DR
GARDEN CITY KS 67846
(620) 276-9560
GARDEN PLAIN
90 Hour Nurse Assistant Class
HUTCHINSON COMMUNITY COLLEGE
815 N WALNUT
HUTCHINSON KS 67501
(620) 665-4948
GREAT BEND
90 Hour Nurse Assistant Class
BARTON CO COMMUNITY COLLEGE
245 NE 30TH RD
GREAT BEND KS 67530
(620) 792-9298
HAVEN
90 Hour Nurses Aide
HUTCHINSON COMMUNITY COLLEGE
815 N WALNUT
HUTCHINSON KS 67501
(620) 665-4948
HOISINGTON
90 Hour Nurse Aide
BARTON CO COMMUNITY COLLEGE
245 NE 30TH RD
GREAT BEND KS 67530
(620) 792-9298
HUTCHINSON
90 Hour Nurses Aide Class
HUTCHINSON COMMUNITY COLLEGE
815 N WALNUT
HUTCHINSON KS 67501
(620) 665-4948
INDEPENDENCE
90 Hour Nurses Aide Program
INDEPENDENCE COMMUNITY COLLEGE
PO BOX 708
INDEPENDENCE KS 67301
(620) 332-5498
IOLA
90 Hour Nursing Aide Program
ALLEN CO COMMUNITY COLLEGE
1801 N COTTONWOOD
IOLA KS 66759
(620) 364-1367
KANSAS CITY
90 Hour Nurse Aide Class
DELORES HOMES TRAINING CENTER
6613 PARALLEL PKWY
KANSAS CITY KS 66102
(913) 299-9534
90 Hour Nursing Aide Course
KANSAS CITY KS COMMUNITY COLLEGE
7250 STATE AVE
KANSAS CITY KS 66112
(913) 288-7465
LAKIN
90 Hour Nurses Aide Program
GARDEN CITY COMMUNITY COLLEGE
801 CAMPUS DR
GARDEN CITY KS 67846
(620) 276-9560
LAWRENCE
90 Hour Nurse Aide Certification
TRINITY CAREER INSTITUTE LAWRENCE
1942 MASSACHUSETTS
LAWRENCE KS 66046
90 Hour Nurse Aide Certification
NEOSHO CO COMMUNITY
COLLEGE-CHANUTE
800 W 14TH ST
CHANUTE KS 66720
(620) 431-2820
90 Hour Nurses Aide Certification
NEOSHO CO COMMUNITY COLLEGE
LAWRENCE
3320 PETERSON RD STE 105
LAWRENCE KS 66049
LENEXA
90 Hour Nurses Aide Programs
BROWN MACKIE COLLEGE LENEXA
9705 LENEXA DR
LENEXA KS 66215
(913) 768-1900
90 Hour Nurses Aide Programs
KANSAS COLLEGE OF NURSING LENEXA
7721 QUIVERA RD
LENEXA KS 66216
(913) 248-2838
90 Hour Nursing Aide Program
KANSAS COLLEGE OF NURSING LENEXA
7721 QUIVERA RD
LENEXA KS 66216
(913) 248-2838
LINDSBORG
90 Hour Nurse Aide Certificate
HUTCHINSON COMMUNITY COLLEGE
815 N WALNUT
HUTCHINSON KS 67501
(620) 665-4948
LYONS
90 Hour Nurses Aide Certificate
BARTON CO COMMUNITY COLLEGE
245 NE 30TH RD
GREAT BEND KS 67530
(620) 792-9298
MAIZE
90 Hours Nurse Aide
WICHITA AREA TECHNICAL COLLEGE
4501 E 47TH ST SOUTH
WICHITA KS 67210
(316) 677-1500
90 Hour Nurse Aide
WICHITA AREA TECHNICAL COLLEGE
4501 E 47TH ST SOUTH
WICHITA KS 67210
(316) 677-1500
MANHATTAN
90 Hours Nurse Aide
KANSAS COLLEGE OF NURSING
MANHATTAN
1125 WESTPORT DR
MANHATTAN KS 66502
(913) 248-2838
MCPHERSON
90 Hours Nurse Aide
HUTCHINSON COMMUNITY COLLEGE
815 N WALNUT
HUTCHINSON KS 67501
(620) 665-4948
90 Hour Nurse Aide
HUTCHINSON COMMUNITY COLLEGE
815 N WALNUT
HUTCHINSON KS 67501
(620) 665-4948
NEWTON
90 Hours Nurse Aide
HUTCHINSON COMMUNITY COLLEGE
815 N WALNUT
HUTCHINSON KS 67501
(620) 665-4948
NICKERSON
90 Hours Nurse Aide Courses
HUTCHINSON COMMUNITY COLLEGE
815 N WALNUT
HUTCHINSON KS 67501
(620) 665-4948
NORTON
90 Hours Nurse Aide Courses
COLBY COMMUNITY COLLEGE
1255 S RANGE
COLBY KS 67701
(785) 462-3984
ONLINE CNA Training
90 Hours Nurse Aide Training
WASHBURN TECH
5724 HUNTOON
TOPEKA KS 66604
(785) 228-6392
90 Hours Nurse Aide Training
BUTLER CO COMMUNITY COLLEGE
131 N HAVERHILL RD
EL DORADO KS 67042
(316) 320-7375
90 Hour Nurse Aide Training
WICHITA AREA TECHNICAL COLLEGE
4501 E 47TH ST SOUTH
WICHITA KS 67210
(316) 677-1500
90 Hours Nurse Aide Training
WICHITA AREA TECHNICAL COLLEGE
4501 E 47TH ST SOUTH
WICHITA KS 67210
(316) 677-1500
OTTAWA
90 Hour Nurse Aide Training Program
NEOSHO CO COMMUNITY
COLLEGE-OTTAWA
226 BEECH
OTTAWA KS 66067
OVERLAND PARK
90 Hour Nurse Aide Training Program
MIDWESTERN COLLEGE OVERLAND PARK
9545 W 87TH ST
OVERLAND PARK KS 66212
(913) 385-2144
90 Hours Nurse Aide Training Class
NATIONAL AMERICAN UNIVERSITY
10310 MASTIN
OVERLAND PARK KS 66212
(913) 205-3943
90 Hour CNA Training
NATIONAL AMERICAN UNIVERSITY
10310 MASTIN
OVERLAND PARK KS 66212
(913) 205-3943
90 Hour CNA Course
MIDWESTERN COLLEGE OVERLAND PARK
9545 W 87TH ST
OVERLAND PARK KS 66212
(913) 385-2144
PAOLA
90 Hour CNA Course
FT SCOTT COMMUNITY COLLEGE
2108 S HORTON
FORT SCOTT KS 66701
(620) 768-2908
ROSE HILL
90 Hour CNA Classes
BUTLER CO COMMUNITY COLLEGE OF
ANDOVER
21ST AND ANDOVER RD
ANDOVER KS 67002
90 Hour Nurse Aide Classes
BUTLER CO COMMUNITY COLLEGE OF
ANDOVER
21ST AND ANDOVER RD
ANDOVER KS 67002
RUSSELL
90 Hour Nurse Aide Class
BARTON CO COMMUNITY COLLEGE
245 NE 30TH RD
GREAT BEND KS 67530
(620) 792-9298
SALINA
90 Hours Nurse Aide Class
SALINA AREA TECH COLLEGE
2562 CENTENNIAL RD
SALINA KS 67401
(785) 309-3100
ST MARYS
90 Hours Nursing Aide
COMMUNITY HOSPITAL ONAGA LTCU
206 GRAND AVE
ST MARYS KS 66536
(785) 437-2286
TOPEKA
90 Hours Nursing Assistant
BRYAN UNIVERSITY
1527 SW FAIRLAWN RD
TOPEKA KS 66604
(785) 272-0889
90 Hour Nursing Assistant
WASHBURN TECH
5724 HUNTOON
TOPEKA KS 66604
(785) 228-6392
90 Hours Nursing Assistant
ALLEN CO COMMUNITY COLLEGE –
BURLINGAME CAMPUS
100 BLOOMQUIST
BURLINGAME KS 66413
90 Hours Nursing Aide
WASHBURN TECH
5724 HUNTOON
TOPEKA KS 66604
(785) 228-6392
TOWANDA
90 Hour Nurse Assistant
BUTLER CO COMMUNITY COLLEGE OF
ANDOVER
21ST AND ANDOVER RD
ANDOVER KS 67002
VALLEY FALLS
90 Hours CNA
HIGHLAND COMMUNITY COLLEGE
PO BOX 68
HIGHLAND KS 66035
(785) 442-3236
WICHITA
90 Hours CNA Course
MIDWESTERN COLLEGE
7607 E HARRY
WICHITA KS 67207
(316) 684-5122
90 Hours CNA Program
WECAREONLINE
4601 E DOUGLAS STE 119
WICHITA KS 67218
(888) 932-2501
90 Hours CNA Program
WECAREONLINE
4601 E DOUGLAS STE 119
WICHITA KS 67218
(888) 932-2501
90 Hour Nurses Aide Program
WECAREONLINE
4601 E DOUGLAS STE 119
WICHITA KS 67218
(888) 932-2501
90 Hour Nurses Assistant
WECAREONLINE
4601 E DOUGLAS STE 119
WICHITA KS 67218
(888) 932-2501
90 Hour Nurse Asst.
WECAREONLINE
4601 E DOUGLAS STE 119
WICHITA KS 67218
(888) 932-2501
90 Hour Nurse Asst.
WECAREONLINE
4601 E DOUGLAS STE 119
WICHITA KS 67218
(888) 932-2501
90 Hour Nursing Asst.
WECAREONLINE
4601 E DOUGLAS STE 119
WICHITA KS 67218
(888) 932-2501
90 Hours Nursing Asst.
WECAREONLINE
4601 E DOUGLAS STE 119
WICHITA KS 67218
(888) 932-2501
90 Hours Nursing Asst.
BETHEL HOUSE TRAINING INSTITUTE
3825 E HARRY
WICHITA KS 67208
(316) 771-7315
90 Hrs. Nurse Aide Training
WICHITA TECHNICAL INSTITUTE
2051 S MERIDIAN
WICHITA KS 67213
90 Hrs. Nurse Aide Training
WICHITA TECHNICAL INSTITUTE
2051 S MERIDIAN
WICHITA KS 67213
90 Hrs. Nurse Aide Training
ALLIED HEALTH CAREER TRAINING LLC
2622 W CENTRAL B112
WICHITA KS 67203
(316) 854-3892
90 Hrs. Nurse Aide Courses
BETHEL HOUSE TRAINING INSTITUTE
3825 E HARRY
WICHITA KS 67208
(316) 771-7315
90 Hrs Nurse Aide Course
WICHITA AREA TECHNICAL COLLEGE
4501 E 47TH ST SOUTH
WICHITA KS 67210
(316) 677-1500
90 Hrs. Nurse Aide Class
WICHITA AREA TECHNICAL COLLEGE
4501 E 47TH ST SOUTH
WICHITA KS 67210
(316) 677-1500
90 Hrs. Nurses Aide Training
WICHITA AREA TECHNICAL COLLEGE
4501 E 47TH ST SOUTH
WICHITA KS 67210
(316) 677-1500
90 Hrs. Nurse Aides
WICHITA AREA TECHNICAL COLLEGE
4501 E 47TH ST SOUTH
WICHITA KS 67210
(316) 677-1500
90 Hrs. Nurses Aide
BETHEL HOUSE TRAINING INSTITUTE
3825 E HARRY
WICHITA KS 67208
(316) 771-7315
90 Hour Nurse Aides
BETHEL HOUSE TRAINING INSTITUTE
3825 E HARRY
WICHITA KS 67208
(316) 771-7315
90 Hour Nurse Aides
BETHEL HOUSE TRAINING INSTITUTE
3825 E HARRY
WICHITA KS 67208
(316) 771-7315
90 Hour Nurse Aides
WICHITA AREA TECHNICAL COLLEGE
4501 E 47TH ST SOUTH
WICHITA KS 67210
(316) 677-1500
WILSON
90 Hrs. Nurse Aides
BARTON CO COMMUNITY COLLEGE
245 NE 30TH RD
GREAT BEND KS 67530
(620) 792-9298