CNA Certification in Maryland
Getting a CNA certification in Maryland was never so easy. There has been a continuously rising demand for qualified certified nursing aides (CNA) in Maryland. But what it takes to get certified in Maryland? Well you must ensure the CNA training program you are opting for, must meet the requirements of the Maryland Nursing aide registry. These requirements expect you to attend a state approved
CNA training program in Maryland. Potential nursing assistants in the state of Maryland are required to complete a minimum of 100 hours of training. The CNA training programs are taught by experienced registered nurses.
The CNA training programs prepare the individuals to perform at best of their capabilities during their nursing career. The clinical training provided in the program is extremely valuable, which provides you the opportunity to have hands on experience with your patients.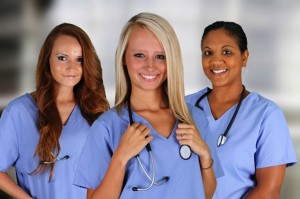 To get the CNA certification, after completing the CNA training program, you must successfully pass the Certified Nursing Assistant Exam which is administered by the Geriatric Nursing Assistant Testing Service of Maryland. After obtaining a passing score in this exam, your name gets listed on the Maryland Nurse Aide Registry which will then certify you to start practicing in Maryland. Nursing Aides applying for CNA certification are also required to undergo a criminal background check and fingerprint submission procedure. It is important to note that the licenses/certificates are issued only after the results of a state and federal background check come back in good standing. In addition you are required to have a negative TB test within the past 6 months and demonstrate a proof of immunizations. You will also be required to show a high school diploma or GED.
Once you possess the CNA certification in Maryland, you are permitted to work in many healthcare facilities like nursing homes, hospitals and long term health care units. These facilities provide good salaries and also better growth once you have gained more experience. Those nursing aides having CNA certification from states other than Maryland willing to work in Maryland must apply for the reciprocity by filling endorsement forms. These forms could be obtained from the Board of Nursing in Maryland. Those CNAs working in Maryland must get their CNA certification renewed after every 24 months. For more details about it, you are encouraged to contact the Board of Nursing in Maryland.
Maryland Approved Nursing School Course Program Equivalents For Requirements of Certified Nursing Assistant Training (CNA), Geriatric Nursing Assistant(GNA ),Medication Technician (MT)
Nursing School
Certified Nursing Assistant/CNA
Geriatric Nursing Assistant/GNA
Medication Technician (MT)
Allegany College
Nursing 120–
Nursing I
Nursing 120-
Nursing I
N/A
Anne Arundel Comm College
NUR 120–
Fundamentals of Nursing NUR 121-Physical Assessment NUR 122-Nursing Perspectives I OR NUR 140
NUR 120-
Fundamentals of Nursing NUR 121-Physical Assessment NUR 122–Nursing Perspectives I OR NUR 140
N/A
Anne Arundel Comm College LPN Program
LPN 180
LPN 180
LPN 180
Baltimore City Comm College
Nursing 120
Introduction to Nursing Practice
N/A
Nursing 111
Calculation of Meds in Nursing Nursing 120 Introduction to Nursing Practice
Bowie State University
NURS 203
Foundations of Nursing Practice II OR NURS 348 and NURS 349
N/A N/A
N/A
Carroll Community College
NURS 101-
Intro To Clinical Nursing Or NURS 102 Nursing Skills NURS 103 Fund of NursingFall 2012 (All 3 required) NURS 131 Health Assessment NUS 132 Medication Administration NURS 133 – Nursing Concepts
NURS 101-
Intro To Clinical Nursing Or NURS 102 Nursing Skills NURS 103 Fund of NursingFall 2012 (All 3 required) NURS 131 Health Assessment NUS 132 Medication Administration NURS 133 – Nursing Concepts
NURS 101-
Intro To Clinical Nursing Or NURS 102 Nursing Skills NURS 103 Fund of NursingFall 2012 (All 3 required) NURS 131 Health Assessment NUS 132 Medication Administration NURS 133 – Nursing Concepts
Cecil Community College Nursing Program
NUR 104 NUR 114
N/A
N/A
Center of Applied Technology –North, Practical Nursing Program
Fund of Nursing Medical Surgical I
Medical Surgical I Pharmacology
Chesapeake College
NUR 102-
Basic Pharmacology for Nursing NUR 111-Foundations of Nursing
NUR 102-
Basic Pharmacology for Nursing NUR 111-Foundations of Nursing
N/A
College of Southern Maryland
NUR 1071/NUR 1071L NUR 1075/NUR 1075/L OR
NUR 1115 Fundamentals of Nursing NUR 1115L Fundamentals of Nursing Lab
NUR 1071/NUR 1071L NUR 1075/NUR 1075/L OR
NUR 1115 Fundamentals of Nursing NUR 1115L Fundamentals of Nursing Lab
N/A
Nursing School
Certified Nursing Assistant/CNA
Geriatric Nursing Assistant/GNA
Medication Technician (MT)
Community College of Baltimore County, Dundalk, LPN Program
NURN 103 Foundation of Nursing Practice
N/A
N/A
Community College of Baltimore County, Dundalk, LPN Program
NURN 103 Foundation of Nursing Practice
N/A
N/A
Community College of Baltimore County, Essex and Catonsville
NURN 150-
Fundamentals of Nursing After Fall 2008: the following Required: NURN 151 Fundamentals of Nursing ANDNURN 152 Nursing Assessment & InterventionsAfter Fall 2009, the following required: NURN 153 Fundamentals of Nursing Concepts Paramedic to RN program NURN 219 Paramedic to RN Transition Course
NURN 153
Fundamentals of Nursing Concepts
N/A
Coppin State University Helen Fuld School of Nursing
N 211-
Intro to Nursing Process I N 212-Intro to Nursing Process II OR NURS 217 Health Assessment and NURS 323
Med Surg Nrsg: Adult/Older Adult Fall 2012: (New Course Number after fall 2012) NURS 217 Health
Assessment and NURS 323 Medical Surgical Nursing
N 211-
Intro to Nursing Process I N 212-Intro to Nursing Process II OR NURS 217 Health Assessment and NURS 323
Med Surg Nrsg: Adult/Older Adult Fall 2012: (New Course Number after fall 2012) NURS 217 Health
Assessment and NURS 323 Medical Surgical Nursing
N 208 –Clinical computations N 211 N 212
Nursing School
Certified Nursing Assistant/CNA
Geriatric Nursing Assistant/GNA
Medication Technician (MT)
Frederick Community College
NU 101
Introduction to Clinical Nursing
N/A
NU 101 Introduction to Clinical Nursing
Harford Community College
N101
Fundamentals of Nursing
N101 Fundamentals of Nursing
N101 Fundamentals of Nursing
Hagerstown Community College
NUR 101 –
Foundations of Nursing OR NUR 111 – Introduction to Practical Nursing Or NUR 116/117 Foundations of Nursing
N/A
N/A
Howard Community College
NURS 130-
Foundations of Nursing OR Nurs 101 OR Nurs 122 Foundations of Nursing Practice
Nurs 122 Foundations of Nursing Practice
NURS 132-
Nursing Care of Patients with Common Health Problems OR Nurs 122 Foundations of Nursing Practice AND Nurs 123 Foundations of Nursing Practice For The Experienced Health Care Provider
Nursing School
Certified Nursing Assistant/CNA
Geriatric Nursing Assistant/GNA
Medication Technician (MT)
Johns Hopkins University School of Nursing
NR 110.304
Principles and Applications of Nursing Interventions & NR 110.303 Health Assessment & NR 110.302
Foundations of the Nursing Role or NR.110.307 Patient Centered CareMust have all three Or NR 100-304/312 –Principles and Applications of Nursing Technology I & IINR 100-303 – Dimensions of the Nursing Role Accelerated Program NR.110.307 Patient Centered Care NR 100-304 –Principles and Applications of Nursing Tech NR 110.303 Health Assessment
NR 100-304/312 –
Principles and Applications of Nursing Technology I & II NR 100-303 – Dimensions of the Nursing Role Or NR 100-304/312 –Principles and Applications of Nursing Technology I & II NR 100-303 –
Dimensions of the Nursing Role Accelerated Program NR.110.307 Patient Centered Care NR 100-304 –
Principles and Applications of Nursing Tech NR 110.303 Health Assessment
NR 100-304/312 –
Principles and Applications of Nursing Technology I & II NR 100-303 -Dimensions of the Nursing Role Or NR 100-304/312 –Principles and Applications of Nursing Technology I & II NR 100-303
-Dimensions of the Nursing Role Accelerated Program NR.110.307 Patient Centered Care NR 100-304 –
Principles and Applications of Nursing Tech NR 110.303 Health Assessment
Montgomery College
NU 110-
Foundational Concepts in Nursing NU 121-Basic Health Assessment OR NUR 113 Fundamentals of Nursing
N/A
NU 110-
Foundational Concepts in Nursing OR NUR 113 Fundamentals of Nursing
Morgan State University
NURS 305
Nursing Care of Adults and NURS 306 Clinical in Nursing Care of Adults Fall 2012 NURS 305 Nursing Care of
Adults and NURS 301 Nursing Process and Health Assessment
N/A
N/A
Notre Dame of Maryland University
NUR 305
Foundations of Professional Nursing NUR 301 Holistic Health Assessment
N/A
N/A
Prince George's Community College
NUR 102
Foundation of Nursing Practice Or NUR 1020 Foundations of Nursing Practice
NUR 102
Foundation of Nursing Practice Or NUR 1020 Foundations of Nursing Practice
NUR 102
Foundation of Nursing Practice Or NUR 1020 Foundations of Nursing Practice
Salisbury State University
NURS 310-
Nursing Care of Adults I NURS 311-Nursing Care of Adults I Clinical NURS 319-Health Assessment
NURS 310-
Nursing Care of Adults I NURS 311-Nursing Care of Adults I Clinical NURS 319-Health Assessment
NURS 310-
Nursing Care of Adults I NURS 311-Nursing Care of Adults I Clinical NURS 319-Health Assessment
Sojourner-Douglass College
PN and/or BSN programs Nur 214
Foundations of Nurs Lecture Nur 215 Found of Nurs Practicum Nur 216 Foundations of Nurs SkillsOR NUR 213 Basic Foundations of Nurs Nur 215 Found of Nurs Practicum Nur 216 Foundations of Nurs Skills
N/A
N/A
Stevenson University
(formerly Villa Julie College)
NURS 201-
Foundations of Professional Nursing Practice NURS 203-Foundations of Professional Nursing Practice
NURS 201-
Foundations of Professional Nursing Practice NURS 203-Foundations of Professional Nursing Practice
NURS 201-
Foundations of Professional Nursing Practice NURS 203-Foundations of Professional Nursing Practice
Fall 2009 (New course number after Fall 2009) NURS 310 Introduction To Clinical Nursing
Fall 2009 NURS 310 Introduction To Clinical Nursing
Fall 2009 NURS 310 Introduction To Clinical Nursing
Towson University
N 345
Technology & Therapeutic Interventions N 351 Nursing Practice I OR NURS 350 Nursing & Healthcare
I: Foundations NURS 347 Health Assessment
N 345
Technology & Therapeutic Interventions N 351 Nursing Practice I OR NURS 350 Nursing & Healthcare
I: Foundations NURS 347 Health Assessment
N/A
University of Maryland School of Nursing
N. 304
Introduction to Professional Nursing Practice N. 333 Health Assessment Or N. 505 Introduction to Professional Nursing
Practice NURS 317 Fundamentals of Nursing in Contest of Older Adults NURS 314 Prevention, Wellness &
Health Promotion 2nd degree students NURS 505 Introductions of Professional Nursing
Practice NURS 503 Health Assessment Access the Lifespan
N/A
N. 304
Introduction to Professional Nursing Practice N. 330 Adult Health Nursing OR N. 505 Introduction to
Professional Nursing Practice
Washington Adventist University/Columbia
NURS 220-
Foundations of Professional Nursing (old # NUR 202) OR Nursing 220 Fundamental Concepts of Professional Nursing Nursing 22 Professional Nursing Foundations I
N/A
N/A
Wor-Wic Community
NUR 101-
Nursing
NUR 101-
Nursing Fundamentals
NUR 101-
Nursing
College
Fundamentals
Fundamentals
EQUIVALENT NURSING ASSISTANT COURSES MILITARY PROGRAMS
MILITARY SERVICE
COURSE
Department of The Air Force
Medical Service Apprentice N. 1317 Fundamentals of Patient Care AND N. 1318 Basic Nursing Care (must complete both
courses)
Community College of the Air Force
J-3AQR4N031 Block I
Fundamentals of Patient Care AND Block II Basic Nursing Care. Must have BOTH
Community College of the Air Force
NUR 1317
"Patient Care Fundamentals" AND NUR 1318 "Basic Nursing Care" Must have BOTH
Department of The Army
91B OR 91W OR 68W Health Care Specialist
Department of The Navy
Hospitalman HN/NER HN-002 OR Hospital Corpsman HM3 HM OR