Do you know what it takes to get a CNA certification in Arizona? To get CNA certification in Arizona, you have to first complete a State approved CNA training program after which you must challenge and successfully pass the Certified Nursing Assistant Exam. There are several quality CNA certificate programs in Arizona. As per the federal laws, these programs must provide at least 75 hours of course work followed by 100 hours dedicated to clinical training. These programs usually last for 2-6 months and the eligibility criteria might vary slightly with the different programs. The required curriculum for CNA certificate programs include fulfilling daily needs of the patients, keeping a clean environment for the residents, advanced skills like CPR, proper communication with disabled residents, keeping medical records, protecting resident rights and so on.
What are perquisites of a CNA certification in Arizona? CNA prerequisites in Arizona include a criminal background check, showing a high school diploma or GED, two fingerprint cards, Photo ID, two photos (passport size). Another perquisite is a negative TB test within the last 6 months and proof of immunizations. It is to be noted that those individuals failing to have a clean criminal record are not issued the CNA certification, as per the state and federal laws. There is no set age limit for CNA students in Arizona.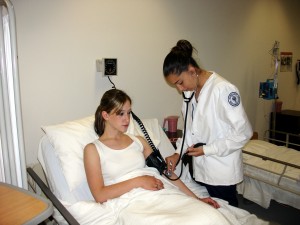 After the completion of the CNA certificate program, you must challenge and pass the State CNA exam. Once you have the passing score in this exam, you get placed on the Arizona Nurse Aid Registry and are declared a CNA. The CNA certification allows you to work in many health care facilities like nursing homes, hospitals and other medical facilities throughout the State of Arizona.
Do you know how much a CNA earns in Arizona? Upon CNA Certification, the average salary of a CNA working in Arizona is between $17,000 and $31,500. Apart from the salary, a positive job growth in the CNA and related positions has been speculated, which indicates a good future ahead of those willing to CNA certified in the State of Arizona.
CNA Training Schools in Arizona (AZ)
Aristocare Home Health Services Nurse Aide Program – Tucson
698 East Wetmore Road, Tucson, Arizona 85705
Arizona Pioneer's Home – Prescott
300 South McCormick Street, Prescott, Arizona 86303
Arizona Western College CNA Program – Parker
1120 16th St., Parker, Arizona 85344
Arizona Western College Nursing Assistant Program – La Paz Campus
1120 16th Street, Parker, Arizona 85344
Banner Thunder-bird Medical Center Greenway High School – Glendale
5555 West Thunder-bird Road, Glendale, Arizona 85306
Beatitudes Campus Nursing Assistant Class
1616 West Glendale Ave., Phoenix, Arizona 85021
Bradshaw Mountain High School West CNA Course – Prescott Valley
6000 East Long Look Dr., Prescott Valley, Arizona 86314
Cactus High School CNA Program – Glendale
6330 West Greenway Rd., Glendale, Arizona 85306
Casa Grande Union High School Nurse Aide Training
2730 North Trekell Rd., Casa Grande, Arizona 85222
Catalina Magnet High School – Tucson
3645 East Pima St., Tucson, Arizona 85716
Centennial High School CNA Class – Peoria
14388 North 79th Ave., Peoria, Arizona 85381
Central Arizona College Nurse Aide Training – Aravaipa Campus
80440 East Aravaipa Rd., Winkelman, Arizona 85292
Central Arizona College Nurse Assistant Program – Signal Peak Campus
8470 North Overfield Rd., Coolidge, Arizona 85228
Chula Vista Care Center – Mesa
60 South 58th Street, Mesa, Arizona 85206
Citadel Care Center Nurse Aide Program – Mesa
5121 East Broadway Rd., Mesa, Arizona 85206
Cochise College CNA Class – Sierra Vista Campus
901 North Colombo Ave., Sierra Vista, Arizona 85635
Cochise College Nurse Aide Training Program – Douglas Campus
4190 West Highway 80, Douglas, Arizona 85607
Cochise College Nursing Assistant Course – Benson Center
1025 State Rt. 90, Benson, Arizona 85602
Coconino Community College Nurse Aide Program – Page
475 South Lake Powell Blvd., Page, Arizona 86040
Coconino Community College Nurse Aide Training Program – Flagstaff
2800 South Lone Tree Rd., Flagstaff, Arizona 86001
Copper Mountain Inn – Globe
1100 Monroe Street, Globe, Arizona 85501
Deer Valley High School Nurse Aide Program – Glendale
18424 North 51st Ave., Glendale, Arizona 85308
Desert Highlands Care Center – Kingman
1081 Kathleen Ave., Kingman, Arizona 86401
Direct Caregiver Association – Green Valley, Nogales, Pima County 
1940 East Silverlake Rd., Tucson, Arizona 85713
East Mesa Care Center Nurse Aide Training
51 South 48th Street, Mesa, Arizona 85206
East Valley Institute Of Technology (Evit) – Mesa
1601 West Main Street, Mesa, Arizona 85201
Eastern Arizona College – Thatcher Campus
615 North Stadium Ave., Thatcher, Arizona 85552
Emmanuel Nursing Assistant Training Program – Phoenix
3003 West Northern Ave., Phoenix, Arizona 85051
Fred G. Acosta Job Corps CNA Class – Tucson
901 South Campbell Ave., Tucson, Arizona 85719
Gateway Community College CNA Course – Maricopa Skill Center
1245 East Buckeye Rd., Phoenix, Arizona 85034
Gila Community College – Gila Pueblo Campus
8274 Six Shooter Canyon Rd., Globe, Arizona 85502
Gila Community College Nurse Aide Course – Payson Campus
201 North Mud Springs Rd., Payson, Arizona 85547
Gila River Indian Care Center Nurse Aide Course – Laveen
8201 West Baseline Rd., Laveen, Arizona 85339
Glendale Community College CNA Training Course
1500 North Verdugo Road, Glendale, Ca 91205
Globe High School Nurse Aide Training Course
453 South Devereaux St., Globe, Arizona 85501
Good Samaritan Society – Peoria Good Shepherd
10323 West Olive Ave., Peoria, Arizona 85345
Good Samaritan Society CNA Program – Prescott Valley
3386 North Windsong Dr., Prescott Valley, Arizona 86314
Good Samaritan Society Nurse Aide Training Program – Prescott Village
1030 Scott Dr., Prescott, Arizona 86301
Good Samaritan Society Quiburi Mission – Benson
850 South Us Hwy 80, Benson, Arizona 85602
Grace Healthcare Of Phoenix Nurse Aide Program
4202 North 20th Ave., Phoenix, Arizona 85015
Grace Institute, Inc. CNA Training Course – Phoenix
6201 North 35th Ave., Phoenix, Arizona 85017
Havasu Nursing Center CNA Class
3576 Kearsage Drive, Lake Havasu City, Arizona 86406
Horizon Health Care Institute – Sierra Vista
555 East Wilcox Dr., Sierra Vista, Arizona 85635
Infinia At Camp Verde Nurse Aide Training Course
15 East Highway 260, Camp Verde, Arizona 86322
International Institute Of The Americas CNA Class – Phoenix
6049 North 43rd Ave., Phoenix, Arizona 85019
Kachina Point Healthcare And Rehab – Sedona
505 Jacks Canyon Road, Sedona, Arizona 86351
La Canada Care Center CNA Training Program – Tucson
7970 North La Canada Dr., Tucson, Arizona 85704
La Colina Health Care Nurse Aide Training – Tucson
2900 East Milber Street, Tucson, Arizona 85714
Lake Hills Inn Nursing Assistant Class – Lake Havasu City
2781 Osborn Dr., Lake Havasu City, Arizona 86406
Lam And Associates School Of Nursing Assistants – Phoenix
8900 North Central, Phoenix, Arizona 85020
Life Care Center At South Mountain – Phoenix
8008 South Jesse Owens Parkway, Phoenix, Arizona 85040
Life Care Center Of North Glendale Nurse Aide Course
13620 North 55th Ave., Glendale, Arizona 85304
Lingenfelter Center CNA Course – Kingman
3131 Western Ave., Kingman, Arizona 86401
Medical Services Company Nursing Assistant Course – Scottsdale
15720 North Greenway-Hayden Loop, Scottsdale, Arizona 85260
Mesa Community College CNA Training Program
1833 West Southern Ave., Mesa, Arizona 85202
Metro Tech – Phoenix
1900 West Thomas Rd., Phoenix, Arizona 85015
Miami High School CNA Training Program
4739 Ragus Rd., Miami, Arizona 85539
Mingus Union High School CNA Program – Cottonwood
1801 East Fir, Cottonwood, Arizona 86326
Mohave Community College At River Valley High School
2250 East Laguna Rd., Mohave Valley, Arizona 86440
Mohave Community College Nurse Aide Training Course – Bullhead City
3400 Highway 95, Bullhead City, Arizona 86442
Mountain View Care Center Nurse Aide Training Program – Tucson
1313 West Magee Rd., Tucson, Arizona 85704
Mountain View Manor CNA Class – Prescott
1045 Sandretto Dr., Prescott, Arizona 86305
Northern Cochise Nursing Home – Willcox
901 West Rex Allen Dr., Willcox, Arizona 85643
Northland Pioneer College Nurse Aide Course – Holbrook
P.O. Box 610, Holbrook, Arizona 86025
Page High School CNA Course
434 South Lake Powell, Page, Arizona 86040
Palm View Rehab And Care Center CNA Program – Yuma
2222 South Avenue A, Yuma, Arizona 85364
Paradise Valley Community College CNA Class – Phoenix
18401 North 32nd St., Phoenix, Arizona 85032
Paradise Valley High School CNA Class – Phoenix
3950 East Bell Rd., Phoenix, Arizona 85032
Payson Care Center Nursing Assistant Course
107 East Lone Pine Dr., Payson, Arizona 85541
Phoenix Job Corps Center
518 South 3rd St., Phoenix, Arizona 85004
Pima Community College Ctd Nurse Aide Training Program – Desert Vista
5901 South Calle Santa Cruz, Tucson, Arizona 85709
Pima Community College West Campus CNA Course
2202 West Anklam Rd., Tucson, Arizona 85709
Pima Medical Institute Nurse Aide Training Course – Mesa
957 South Dobson Rd., Mesa, Arizona 85202
Posada Del Sol Healthcare Center CNA Course- Tucson
2250 North Craycroft Rd., Tucson, Arizona 85712
Precision High School Nurse Aide Training – Phoenix
3906 East Broadway Rd., Phoenix, Arizona 85040
Regional Center For Border Health, Inc. – Somerton
214 West Main St., Somerton, Arizona 85350
Rio Salado College – Tempe
2323 West 14th St., Tempe, Arizona 85281
Rsaa Training Institute Nurse Aide Course – Mesa
1530 North Country Club Drive, Mesa, Arizona 85201
Saguaro High School Nursing Assistant Course – Scottsdale
6250 North 82nd St., Scottsdale, Arizona 85250
Scottsdale Community College CNA Training Course
9000 East Chaparral Rd., Scottsdale, Arizona 85256
Seven Healthcare Academy Nurse Aide Training Course – Tempe
2435 East Southern Ave., Tempe, Arizona 85282
Shadow Mountain Nurse Aide Training Program – Scottsdale
8780 East Mckellips Rd., Scottsdale, Arizona 85257
Southwest Skill Center – Estrella Mountain Community College
3000 North Dysart Rd., Avondale, Arizona 85392
Star Canyon School Of Nursing CNA Training Program – Phoenix
8900 North Central Ave., Phoenix, Arizona 85020
Sun Grove Village Care Center – Peoria
20625 North Lake Pleasant Drive, Peoria, Arizona 85382
Sunnyside High School Nurse Assistant Program – Tucson
1725 East Bilby Rd., Tucson, Arizona 85706
Sunrise Mountain High School CNA Training Program – Peoria
21200 North 83rd Ave., Peoria, Arizona 85382
Superstition Mountain Campus CNA Training Program – Apache Junction
273 East Old West Hwy., Apache Junction, Arizona 85219
The Following Nurse Aide Programs Are Offered For High School Students Only
The Peaks CNA Training Course – Flagstaff
3150 North Winding Brook Rd., Flagstaff, Arizona 86001
The River Gardens Rehab And Care Center – Bullhead City
2150 Silver Creek Rd., Bullhead City, Arizona 86442
Thunderbird High School Nursing Assistant Program – Phoenix
1750 West Thunderbird Rd., Phoenix, Arizona 85023
Trendsetters CNA Academy – Youngtown
11200 West Wisconsin Ave., Youngtown, Arizona 85363
Tuba City Regional Health Care Corporation
P.O. Box 600, Tuba City, Arizona 86045
Tucson Medical Center CNA Program For High School
5301 East Grant Rd., Tucson, Arizona 85712
Tucson Medical Center Healthcare Nurse Aide Course
5301 East Grant Road, Tucson, Arizona 85712
Valley Health Care – Tucson
5545 East Lee St., Tucson, Arizona 85712
Yavapai Community College – Verde Valley Campus
601 Black Hills Drive, Clarkdale, Arizona 86324