Are you looking for a CNA certification in Arkansas? Well, it is the right time to become a CNA in Arkansas due to the ever increasing need of qualified CNAs. To get CNA certification in Arkansas, you have to first complete a State approved CNA training program after which you must challenge and successfully pass the Certified Nursing Assistant Exam. There are several quality CNA certificate programs in Arkansas that equip you with all the necessary skills and knowledge required to excel in your nursing career. As per the federal laws, these programs must provide a minimum of 120 hours of clinical and classroom time. These programs usually last for 8-13 weeks and the eligibility criteria might vary slightly with the different programs. The required curriculum for CNA certificate programs include fulfilling daily needs of the patients, proper communication with disabled residents, keeping medical records, keeping a clean environment for the residents, advanced skills like CPR, protecting resident rights and many more.
CNA certification in Arkansas has few perquisites. CNA prerequisites in Arkansas include a criminal background check, showing a high school diploma or GED, two fingerprint cards, Photo ID and two photos (passport size). Another perquisite is a negative TB test within the last 6 months and proof of immunizations. It is to be noted that those individuals failing to have a clean criminal record are not issued the CNA certification, as per the state and federal laws. There is no set age limit for CNA students in Arkansas.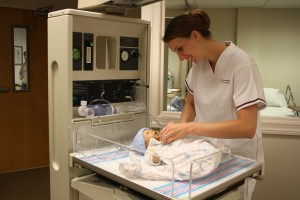 Once graduated from a CNA certificate program, you must challenge and pass the State CNA exam. Once you have the passing score in this exam, you get placed on the Arkansas Nurse Aid Registry and are declared a CNA. The CNA certification allows you to work in many health care facilities like nursing homes, hospitals and other medical facilities throughout the State of Arkansas.
How much a CNA earns in Arkansas? Upon CNA Certification, the average salary of a CNA working in Arkansas is around $26,000. A positive job growth in the CNA and related positions has been speculated, which indicates a good future ahead of those willing to CNA certified in the State of Arkansas.
CNA Training Programs in Arkansas (AR)
AANA

(Cabot, Des Arc, Heber Springs, Lonoke, McCrory, Melbourne, Pulaski County, Searcy, and Star City)

P O Box 727

Jacksonville, AR 72078

501-940-1914

AHEC-North Central

1215 Sidney Street, Ste 201

Batesville, AR 72501

870-698-1023

AHEC -NW at Harrison

1515 Pioneer Drive

Harrison, AR 72601

870-391-3140

AR Career Training Institute – HSRC

P O Box 1358

Hot Springs, AR 71902-1358

501-701-6612

AR Career Training of the Ozarks

Pope and Sebastain Counties

299 South 24th St

Rogers, AR 72758-1102

479-616-6138

AR Nursing Assistant Academy, LLC

425 N University

Little Rock, AR 72205

501-666-1825

Arkansas Northeastern College – Blytheville

P O Box 1109

Blytheville, AR 72316-1109

870-762-1020

Arkansas Northeastern College – Paragould

P O Box 458

Paragould, AR 72451

870-239-3200

Arkansas State University – Newport

7648 Victory Blvd

Newport, AR 72112

870-512-7833

Arkansas Tech University – Ozark

1700 Helberg Lane

Ozark, AR 72949

479-508-3327

Ash Flat Healthcare and Rehabilitation Center

66 Ozbirn Lane

Ash Flat, AR 72513

870-994-2341

ASU-Beebe CNA Program

3214 East Race Street

Searcy, AR 72143

501-278-3189

ASU-Mountain Home

1600 South College St

Mountain Home, AR 72653

870-508-6154

Black River Technical College

P O Box 468

Pocahontas, AR 72455

870-248-4000

Clark County Community Education

3021 Twin Rivers Drive

Arkadelphia, AR 71923

870-403-1802

College of the Quachitas

One College Circle

Malvern AR 72104

501-332-0304

Cossatot Community College of U of A

P O Box 960

De Queen, AR 71832

870-584-4471

Crossett High School

111 Greenbriar Circle

Crossett, AR 71635

870-364-2625

Crowley's Ridge Technical Center

P O Box 925

Forrest City, AR 72336

870-633-5411

Medlinc, Inc.

1501 N. University Ste. 300

Little Rock, AR 72207

501-492-7200

Mid-South Community College

2000 West Broadway

West Memphis, AR 72301

870-733-6700

National Park Community College
101 College Dr.
Hot Springs, AR 71913
501-760-4160
Northeast AR Innovative Training Center
324 South Main
Rector, AR 72461
870-595-2300
Northwest AR Community College
1500 West Jefferson
Siloam Springs, AR 72761
479-524-5134
Northwest Arkansas Community College
One College Drive
Bentonville, AR 72712
479-986-6790
Northwest Technical Institute
CNAP
709 South Old Missouri Rd
Springdale, AR 72764-1142
479-751-8824
Ozark Health Foundation
P O Box 74
Clinton, AR 72031
501-745-7004
Ozark Tech College-Mt. View
P O Box 10
Melbourne, AR 72556
870-368-2079
Perry County CNA Training
1321 Scenic Drive
Perryville, AR 72126
501-889-2400
(Only for individual who will work at this facility)
Ozark Health Foundation
P O Box 74
Clinton, AR 72031
501-745-7004
Ozark Tech College-Mt. View
P O Box 10
Melbourne, AR 72556
870-368-2079

Petra Allied Health (Fort Smith, Hot Springs, and Springdale)

P O Box 6611

Springdale, AR 72766

PHCTA (Arkadelphia, Faulkner County, Jefferson County, Malvern, Quachita County, and Saline County)

625 East Page Ave

Malvern, AR 72104

Phillips Community College

1210 Ricebelt Ave

Dewitt, AR 72042

Pine Lane Therapy and Living Center

1100 Pine Tree Lane

Mountain Home, AR 72653

870-425-6316

PRN Medical Services

4500 Rogers Ave

Fort Smith, AR 72903

479-785-9222

Renaissance Healthcare

3063 West 28th Street

Pine Bluff, AR 71603

(870) 536-2300

River Chase Rehab and Care Center

12 Hospital Drive

Morrilton, AR 72110

501-354-4647

River Valley NATP-OLA

610 Patterson Lane

Russellville, AR 72802

479-858-2290

RSB NATP (North Central, North East, and South)

9001 Highway 358

Paragould, AR 72450

870-926-9496

SAU Tech

P O Box 3499

Camden, AR 71701

870-574-4585

Schmieding-Fort Smith

512 S 16th St

Fort Smith, AR 72901

479-424-0053

877-762-0015

arcaregiving.org

Schmieding-Little Rock

4301 W Markham, Slot 748

Little Rock, AR 72205

501-526-6500

877-762-0015

arcaregiving.org

Schmieding-Texarkana
4010 Jefferson Ave
Texarkana, AR 71854
870-773-2030
877-762-0015
arcaregiving.org
Schmieding Home Caregiver
Training
4747 Dusty Lake Dr. Ste 101
Pine Bluff, AR 71603
870-879-1440
877-762-0015
arcaregiving.org
Schmieding-Jonesboro
2813 Forrest Home Rd
Jonesboro, AR 72401
870-207-7600
877-762-0015
arcaregiving.org
Schmieding-Springdale
2422 N. Thompson, Suite B
Springdale, AR 72764
479-751-3043
schmiedingcenter.org
Schmieding-West Memphis
200 West Tyler Ave
West Memphis, AR 72301
870-735-1500
877-762-0015
arcaregiving.org
Sisters Education
P O Box 1127
Wynne, AR 72396
870-238-7941
South Arkansas Community College
P O Box 7010
El Dorado, AR 71730
Southeast Arkansas College
1900 Hazel St
Pine Bluff, AR 71603
870-534-5917
St Cross Health Care Ed LLC
324 Commercial Avenue
Wynne, AR 72396
870-588-5772
Texarkana AR Career and Tech Center
1200 Jefferson Street
Texarkana, AR 71854
870-772-3662
Texarkana Nursing Academy
718 E 5th St
Texarkana, AR 71854
870-772-6860
UACC-Hope
2500 South Main
Hope, AR 71854
870-722-8224
UACCM Nursing Assistant
Training Program
1537 University Boulevard
Morrilton, AR 72110
501-977-2152
UAM College of Technology
1326 Hwy 52 West
Crossett, R 71635
870-364-6414
University of AR at Fort Smith
P O Box 3649
Fort Smith, AR 72913
479-788-7843
University of AR Community College
P O Box 3350
Batesville, AR 72503
870-612-2141
Walnut Ridge Nursing
and Rehab Center
1500 West Main St
Walnut Ridge, AR 72476
870-886-9022
White County Medical Center
3214 East Race
Searcy, AR 72143
501-278-3189